OARC group meetings cancelled due to Covid-19 concerns
---------------------------------------------------------------------------------------
Stay tuned to the Tuesday Ham & Eggs Net for meeting updates.

OARC Meeting/Activity - October

On the Air meeting: 448.600 FM.

3rd Saturday 17th October 2020 @ 9:00 AM.


Live Streamed 'YouTube' link (review/listen after the fact)

SSTV (Slow Scan Television) project - learn how

CENTENNIAL OARC 2021 CLUB LOGO - revealed

<![if pub11]>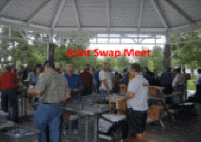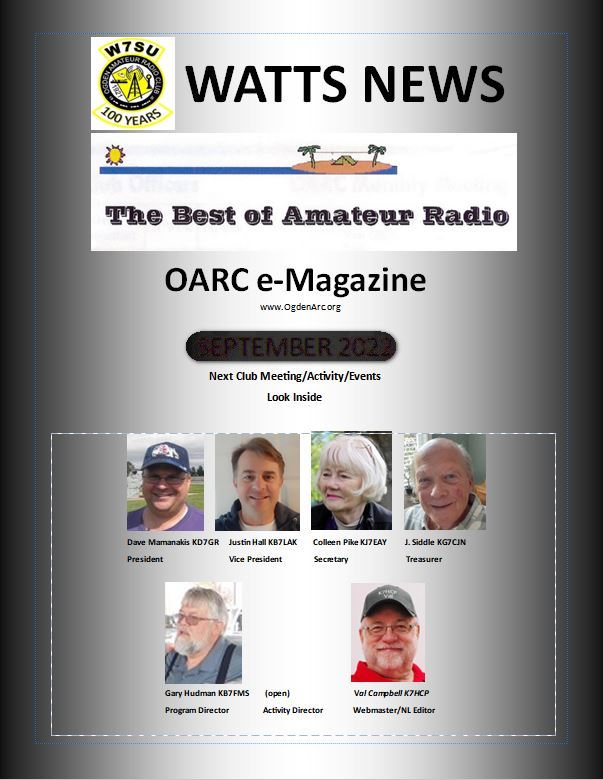 October 2020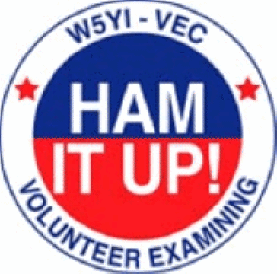 OARC VE Testing & Licensing Classes
See who was licensed at the most recent VE Test Session.

How To Become A Ham ... It Might Be Easier Than You Think!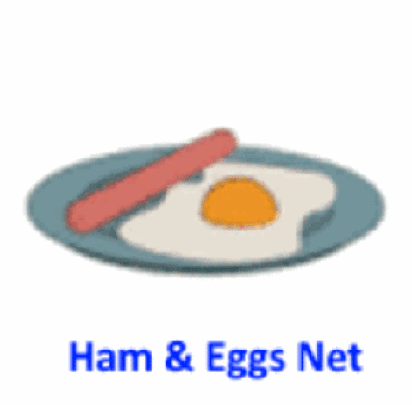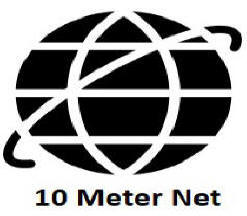 OARC CENTENNIAL CELEBRATION
(OARC turns 100 years old - May 2021)
Congratulations to the following OARC 2020-2021 officers

President: KD7GR Mamanakis, Dave - Incumbent
Vice President: KB7LAK Hall, Justin
Secretary: KB7FWW Siddle, Barbara - Incumbent
Treasurer: KG7CJN Siddle, James - Incumbent
Program Director: KJ7HEX Wilde, Mike
Activity Director: KW7TES Shobe, Todd
Officers: Be sure to read the ...
OARC Officers Duties and Responsibilities



Meet your 2020/2021 club officers

OARC REMINDERS:
Renew your 2020-2021 membership ASAP.
Do it online or mail-in. Click Join/Renew
NOTICE

Technician Licensing Course -Davis County Amateur Radio Club
Wednesdays 21 Oct 2020 from 6:00 – 8:30 PM thru 25 Nov 2020.
Layton City Office 437 Wasatch Dr., Layton 84041.
No cost to take the course. Pre-registration is required.
We will be using The Technician License Course (2018-2022 Pool) book by Stu Turner. The books sell for $22.95 plus shipping if you order them online. The Davis County Amateur Radio Club has some available for $20.00 at the class.
Spencer Mark at ae7io@arrl.net or
801-564-8054.
NOTICE
Utah DX Association at its regular monthly meeting, October 21, Wednesday at 1900 MST.
Special guest Carl Luetzelschwab K9LA. Karl is an authority on propagation. He will be presenting on cycle 25, and vintage radio equipment. With two new predictions added to the previous one from last spring, this will be a great opportunity to learn about where cycle 25 may be headed. It is always enjoyable to see vintage gear and how it works. He indicated he may also have a surprise topic. Take a look at his website to learn more about Carl.
Please contact Ron WIlcox KF7ZN or any officer with the club for information on how to access via zoom and attend.
Ron Wilcox KF7ZN
INTERESTING ITEMS
K1USN cw slow speed on the air contest
NOTICE
New Obay Swap items available!
______________________________
Congratulations to those who successfully tested
at the October 2020 Weber County VE Test Session.
NAME
CLASS
CALL
Hizer, Kevin J
Extra
KI7EXO
Butler, David C
General
KJ7RMO
Nance, Susan
General
KJ7RJA
Hizer, Nathaniel S
Tech
KJ7RJD
Hutchinson, Mark
Tech
KJ7RIZ
ELMER "mentor"
HELP LINE
Do you need the assistance of an Elmer (Ham Radio Mentor)?

Try our OARC Elmer Help Line. Describe your problem via email.

Elmer Help email (w7su@arrl.net)
NEW - Coming Soon

NEWS YOU CAN USE
Meet your 2020/2021 club officers

Club officers since 2004

OARC Officers Duties and Responsibilities
OARC History - 99 years old (since 1921)
USEFUL INFORMATION
(sk) Web Site
Listing of ham friends
that have passed on



> click on the flag then use the search box in the upper right < Thank you Dave Sanders K7RGY
______________________________
USEFUL CHART
ARRL US Amateur Radio Band Chart