<! Header starts here >


O'bay (OARC's On-Line Swap-Meet)
---
<! Header ends here > <! Main page starts here > Welcome to O'bay - OARC's On-Line Swap-Meet. Hams can post hobby related items for sale within the amateur radio hobby community here. This service is FREE to all.

If you have anything to sale contact the Swapmaster. eMail "Description, Price, Contact and Photo (optional)". After your item sells, please let us know so we can removed the item from the listing.

O'Bay swap items needed...
&nbsp
---
---
NOTE: OARC O'bay Item Needed.
ALSO: Visit WIMU FREE SWAP http://www.pocatelloarc.org/swap/
---
---
SWAP ITEM # 177
FOR SALE:
60ft crank up tower. Aluma model T-60HN.
Includes 120V winch, tilt base plate, YAESU G-800SDX and G-500A rotators, guy wires and house bracket.
60 foot Aluma Tower spec.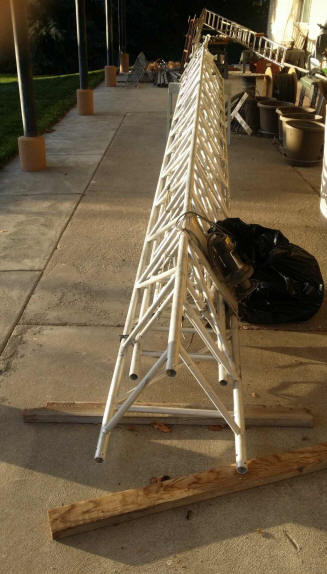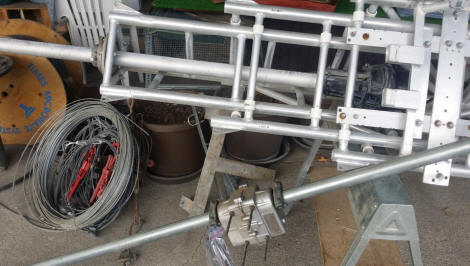 PRICE: $4000
CONTACT: John N7WZ, 208 520 3537 (leave message)
---
SWAP ITEM # 176
FOR SALE:
40ft mobile air pushup tower.
Includes spare tire for trailer, leveling feet for trailer and guy straps with ground stakes.
Trailer requires 2 in ball.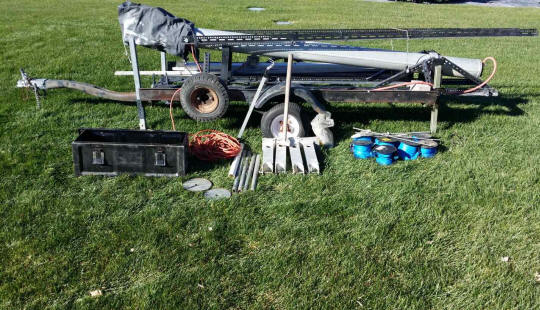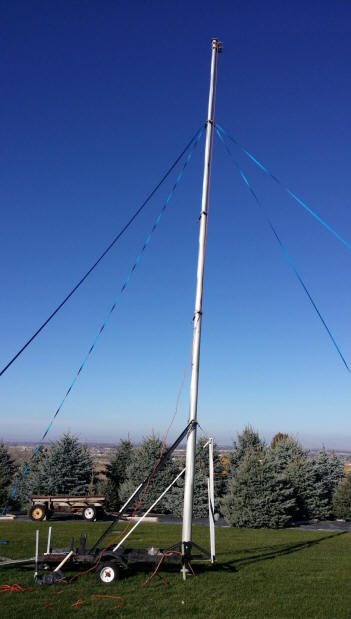 PRICE: $3000
CONTACT: John N7WZ, 208 520 3537 (leave message)
---
SWAP ITEM # 175
FOR SALE: Rohn 25G style mast tower (1 foot on the side)
Three 9 foot sections with a top mount section.
The bottom section is buried a foot into a concrete block in the ground.
There is what appears to be an old VHF low band business antenna on the mast.
See picture looking up the mast and me pointing at the first joint.
The owner needs it moved as soon as possible, he will pull the concrete base out of the ground.
Located near the 5000 block on Harrison BLVD in Ogden. Make offer. Email is best for more information.
PRICE: MAKE OFFER
CONTACT: Ray White K7RFW, CRWHITE@AIRMAIL.NET
---
SWAP ITEM # 174
FOR SALE: RFS 1/2" Heliax
RFS 1/2" Heliax new on the roll for $1.00 a foot. We still have 1000 Ft available and will cut to your length.
This is RFS Cellflex LCF12-50J Heliax cable. It is similar to Andrew LDF4-50A 1/2" Heliax and the connectors fit both cables.
We don't have connectors for this cable but we can show you where you get get them from a number of suppliers starting at $5.00 each.
PRICE: $ 1 / foot
CONTACT: Mel Parkes, NM7P at 801-673-6116 or John Lloyd, K7JL at 801-943-8830 - Payment via PayPal at http://www.utahvhfs.org/
---
SWAP ITEM # 171
FOR SALE: Hy-Gain AV-14AVQ Vertical 4 band HF Antenna (10m/15m/20m/40m)
Antenna was used ground-mounted with 4 radials for two years. Value new = $189
Good stealth antenna as it is only 18 ft. in length.
It is complete in the original factory box and includes factory manual.
PRICE: $ 80 (firm), cash only
CONTACT: Larry Griffin AD7GL, 801-388-1894, ad7glqst@gmail.com
---
---
Updated 12 April 2017