<! Header starts here >

Steak Fry
---
---
NEXT CLUB ACTIVITY/EVENT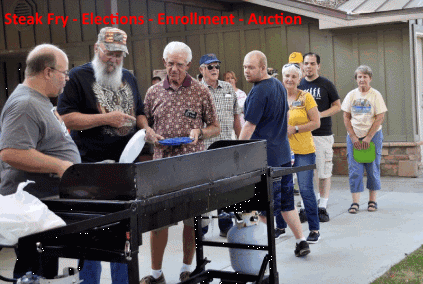 Steak Fry - Renewals - Elections - Auction
Date: 3rd Saturday, 17 August 2019
Time: 5:00 PM
Location: Marriott Park (1065 S 1200 W) >>> MAP
Activity: OARC Annual Steak Fry Event

... Please bring a side dish to share (food dish, salad, fruit, desert).
Also, bring your own dinner-ware (emergency paper-ware provided).
Steak Fry ($0/steak for all members, $5/steak for non-members); Free hot dogs for the kids of all ages

Membership Renewal ($15); Spouse Membership ($10); Family of Hams Membership ($25)
Note: 1st year membership is free to newly licensed hams

Bring items to donate for the Auction

Club Officers Ballot Election; (Nominations welcomed in advance)
GRAND DOOR PRIZE: $300 value in grand door prizes this year!
[Grand Door Prizes for paid-up members only, sign-up/renew membership at meeting]
[You must be present to win!] <<<
[$15 single membership, $25 whole family membership]
[1st year membership is free to newly licensed hams]
[You do not need to be licensed to become a member]
---
Updated 01 August 2019